SAND ART TO SPEAK ABOUT CAP
SAND ART TELLS THE PAC
Sand animation, known as Sand Art, is an animation film technique that consists of creating two-dimensional images using the plasticity of sand. The greater or lesser quantity of sand used creates extraordinary light-shadow effects.
There are two styles: in the first case animators create with sand the single frame of the animation film. In the second case, the artist creates a series of images by drawing lines and figures with sand on a translucent surface (such as a light board, like an overhead projector) or backlit: the figures are taken by a camera placed over the table and images are transmitted on a screen.
ARTISTS of Sand ART
Since 2011 Nadia Ischia realizes performances, videos and workshops of sand drawings.
In 2016 she worked with the World Farmers' Organization for food policy communication. Nadia has produced the six sand art video designed for young audiences.
Mauro Masi was born as a cartoonist, but he was overwhelmed by his passion for Sand Art.
He has numerous teaching experiences. He created real fairy tales illustrated with sand. He has produced the sand art video designed for children, these video use nursery rhymes recited by two experienced artists: NicoNote and Massimo Tonti.
Nadia Ischia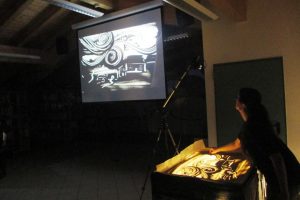 Mauro Masi


8,742 total views, 2 views today